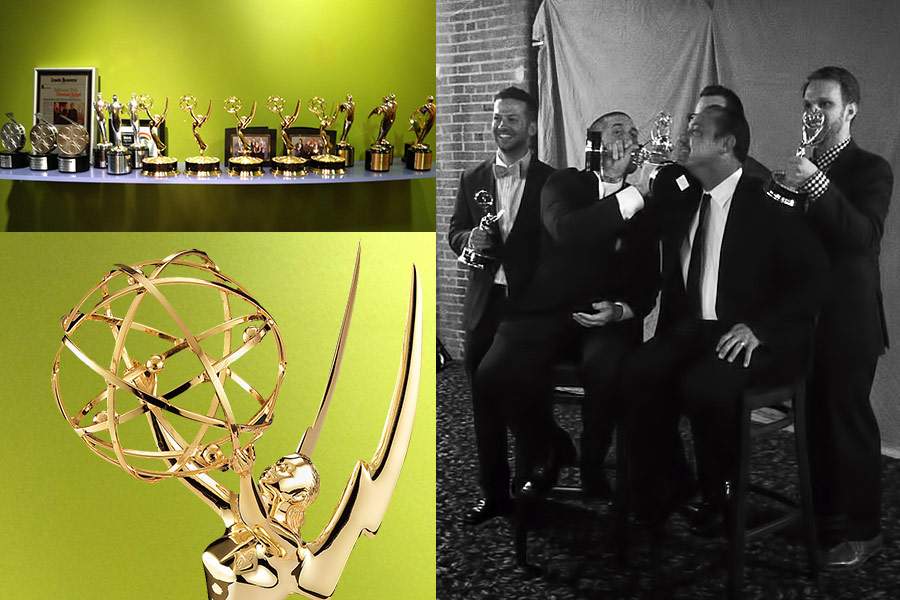 We came. We saw. We brought home some Emmys.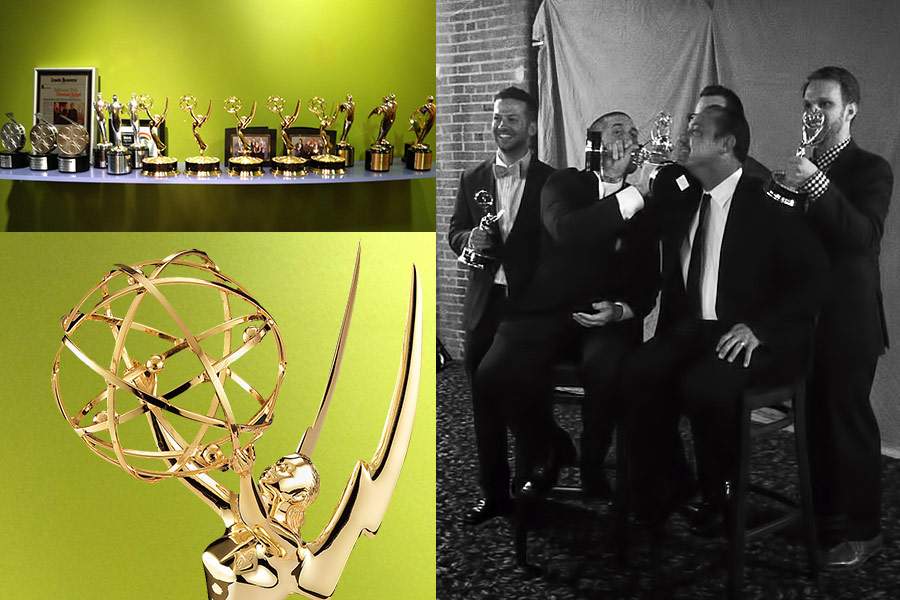 To say it was a good night would be an understatement. We brought home a grand total of 9 Emmy Awards for 3 different categories from the 44th Annual Lower Great Lakes Chapter of the National Academy of Television Arts and Sciences (NATAS) Emmy Awards.  Our awards shelf is starting to bow.
The first Emmy came for Best Promotion of Program Sports along side QTV for the 2012-13 Cleveland Cavaliers in-game video open. This adrenaline-pumping, pre-game video featured the talents of our Cleveland Cavs enhanced with flaming motion graphics, enthusiastic crowds, and views of downtown Cleveland. "Invincible" by Cleveland's own Machine Gun Kelly, set the musical backdrop for this heart pounding opening video that quickly became a fan favorite. Watch video.
Our second was for Best Documentary which we shared with WVIZ/Ideastream for the production of Staging Success; The PlayhouseSquare Story which tells the tale of the near demise and dramatic rebirth of Cleveland's theater district. This documentary film introduces a group of dedicated volunteers who fought to save the Ohio and State theaters from demolition and the restoration and rebuilding efforts that followed in the subsequent years. Today, PlayhouseSquare is the largest performing arts center outside of New York's Lincoln Center. View documentary trailer.
Finally, our very own, very well dressed, Director of Photography, Caleb Crossen, took home an individual Emmy for Best Cinematography for his work on Staging Success: The PlayhouseSquare Story. Our fearless leader, Brian Glazen said of his staff and their success; "In the moment, I panicked. Are these guys going to ask for raises??? But seriously, it's exciting to see what is happening here tonight and for these people to be receiving accolades for the work they do. It's just one more indication that we have an amazing future ahead of us creating content of this caliber."