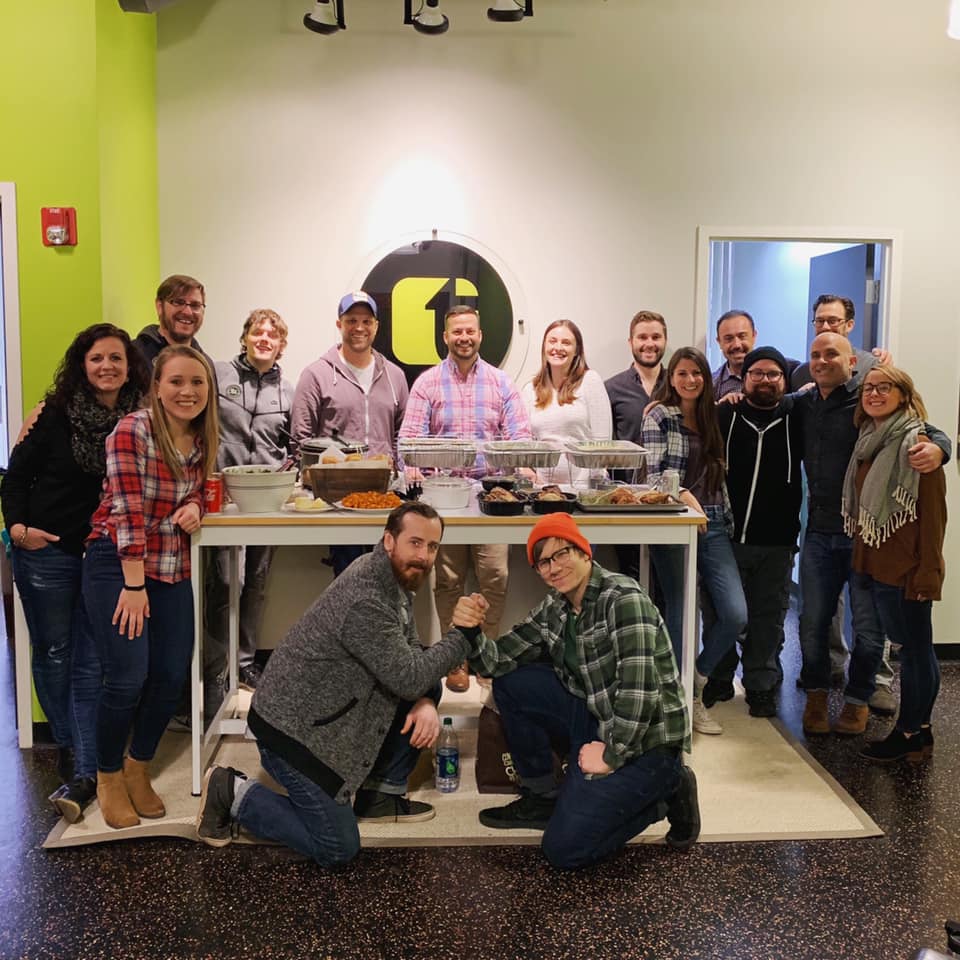 As we bid a fond farewell to 2018, we've been reflecting upon the amazing year we have had at Think Media Studios! Here are some of our most memorable moments from 2018… in no particular order.
On the Road Again
In 2018, we traveled… a lot. We were in Arizona, Pennsylvania, New York, North Carolina, South Carolina, California, Wisconsin, Tennessee, Connecticut, Alabama, Minnesota, Missouri, Montreal, Quebec, Puerto Rico, Mexico, Australia and of course, quite a bit of Ohio. It's pretty great to be able to take to the road when our clients need us. And selfishly, we enjoy going new places.
ADDY Awards
The ADDY Awards are always fun, but this year was definitely memorable for us. We brought home six ADDY Awards — four of those were gold honors and two of them silver. Gold honors included our A More Civil War trailer, our Burn the Ships trailer, a piece created for Cleveland Housing Network titled,  "The House That Love Built" and our 2016-2017 Cleveland Cavaliers "Square One" season intro. Silver honors included our Maker's Reel and a piece created with the Boys and Girls Club of the Western Reserve titled, "Sincerely Dremonie".

Our First Short Film
In February of this year, we shot our first short film titled, When the Night Comes. TMS director, Ryan Girard wrote and directed this short film here in Cleveland over the course of four days. Various other TMS employees helped produce, edit and work on the project from beginning to end. When the Night Comes has been submitted to film festivals and we are glad to have this project as our first short feature-film. Stay tuned for more info!
Life at Think Media
We welcomed two new additions to our Think Media family this year. Dan Krivenki and his wife Lindsey welcomed a baby boy named Harrison in late June. And Andy Hollander and his wife Jeanette welcomed their second daughter, Lily in early September.
We also celebrated the wedding of one of our TMS employees. Producer Taylor Sigman married Mike Caruso this past June in Cleveland.
In November, we hosted our first *Thinksgiving feast. Safe to say we have some great cooks among this group of creatives, and we're thankful for that.
New Tools
We had several opportunities to work with new and unique equipment this year. This included a robotic camera arm called the Kira from Motorized Precision. We used this to capture fast and fluid movements that reflected the ease of use of the product we filmed. You can watch the final product we made with the Kira here.
We also used a Russian Arm (pictured right) to shoot a piece featuring a car on a race track. A Russian Arm is most commonly used in movies or car commercials as a pursuit vehicle when the subject is moving at high-speeds or in a dynamic way.
We always look for opportunities to work with new gear and love when we can expand upon the type of work we do with different equipment.
Client Relationships
Finally, all of our client relationships are something that stand out from this past year. It is both exciting and humbling to look back at the new projects we worked on and the people we worked with. We look forward to seeing what 2019 will bring for our working relationships with so many of you!
We had much to celebrate in 2018 and we have even more to look forward to in 2019. Happy New Year to all!!
And that's a wrap!