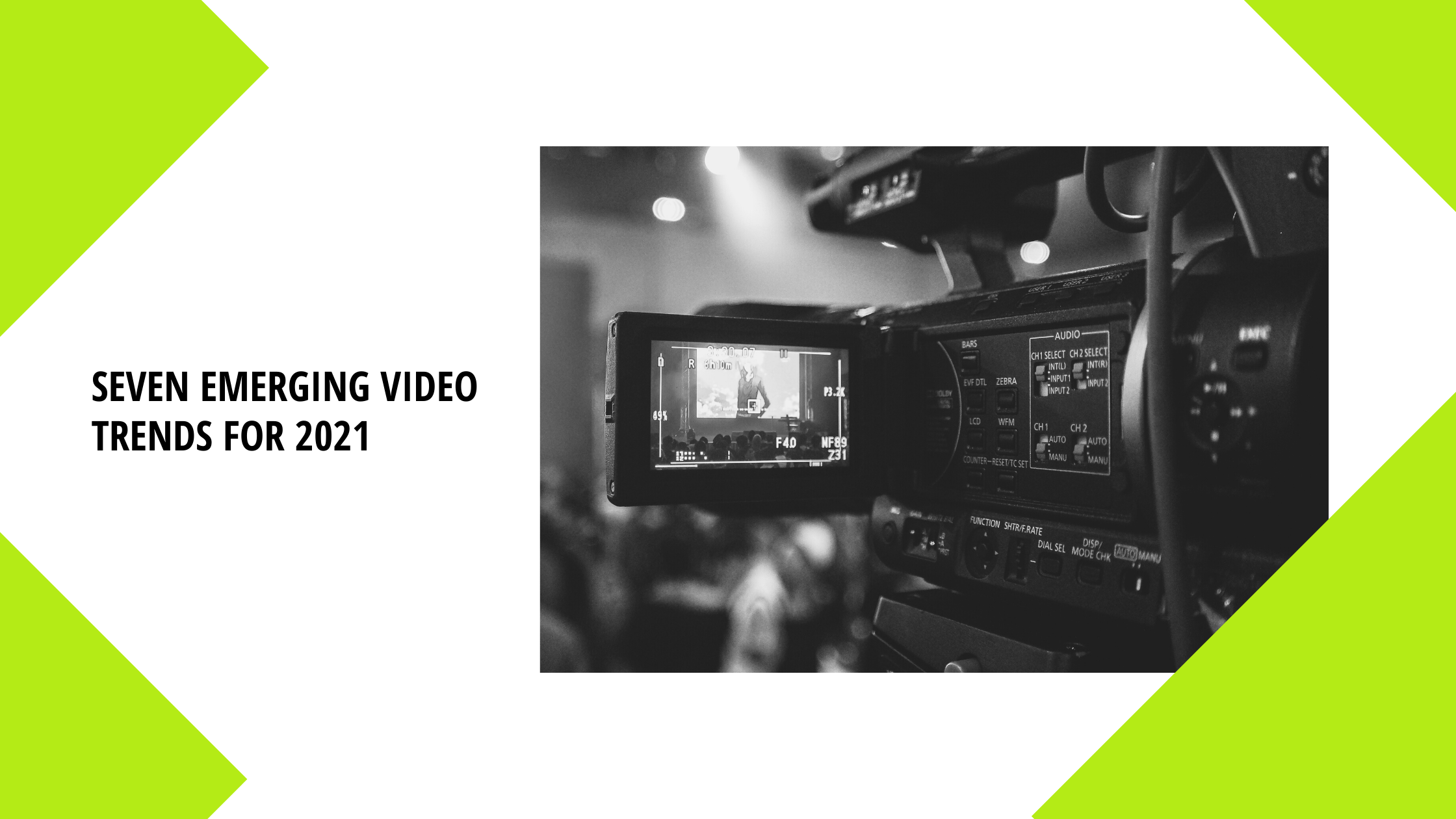 Seven Emerging Video Trends for 2021 – [research, stats + how to stay ahead]
At Think Media Studios, we're always on the lookout for communication innovations. Trends are changing daily, but how can you decipher which ones are worth following? How do you know what strategy to use when jumping on a trend? That's where we come in to play. With consumption higher than ever, here are the top seven worthwhile emerging trends and new ways to jumpstart your marketing strategy with video. 
1. Mobile video prevails
Mobile video content is here to stay. With the rise of platforms like TikTok and the introduction of Instagram Reels, more people than ever before are watching content on their mobile devices. And this trend isn't going away anytime soon. According to eMarketer, it is predicted that by 2022 that 248.9 million people in the U.S. will be digital video viewers. These viewers want to see more video content from brands. We have helped countless brands capitalize on the mobile video trend by keeping up with social platforms and generating ads in multiple aspect ratios to make sharing on multiple platforms seamless. Professional video production companies can make creating on these platforms all too easy.
2. Short-form video and social media
Social media is everywhere (not exactly breaking news, we know). But we can't ignore the fact that, as its creators predicted, it has given its users infinite ways to connect with users. One way users are increasingly connecting with one another and brands is through creating content of their own. User-generated content, or UGC, has given consumers new ways to interact with brands. Utilizing short-form video content on social media is a powerful way to engage with an audience. From UGC to behind the scenes, consumers want more content from brands. Your brand can encourage consumers to create UGC by having an active social presence, re-sharing UGC related to your brand on social media, and using in-platform features, such as hashtags, to encourage customer-to-brand interactions. 
3. Live-streaming
2020 may very well go down as "The Year of Live-Streaming". 2020 taught us that virtually any event can be live-streamed. Live streaming has changed the way brands engage with audiences forever. It is no surprise that the COVID-19 pandemic has created an uptick in live-streamed events from brands. What may be a surprise, however, is how much consumers love these events! Live-streaming provides customers the opportunity to put a face to a brand or to ask a company questions directly. This improves trust and can form a real connection between a consumer and a brand. Think Media Studios has watched brand engagement rise and rise whenever our clients engage with their audiences via live-stream. 
4. 360-degree video experiences
The barriers to enter and use 360-degree tech have been lowered drastically. Any video concept you can come up with can become a 360-degree video experience. With a 300% higher click-through rate compared to display ads, consumers say 360-degree experiences are more exciting than any other format. This is why many brands and companies can't get enough. 360-degree can reach a wide audience and give that audience a genuine experience. 360 delivers exciting and engaging experiences in a way that traditional display ads simply cannot. 
5. Training + education
We get it, learning can be boring. That being said, brands that make education a priority and share knowledge along the way build trust, improve lead generation, and enable success. How do you make learning more enjoyable for the average consumer? Through creating engaging and informative video content, of course! According to Wyzowl, 68% of audiences prefer learning about services or products through video content. Explainer videos and the like are a powerful way to engage with any audience. Using educational video as an engagement tool is not new but we have seen it trending up as its benefits become more apparent. 
6. Interactive video
With the rise of AR/VR, brands are evolving the way they use interactive video to personalize experiences and increase engagement. Interactive videos can tell a brand a lot about its consumers. It can give them information about what sort of ad experience their audience prefers. VR can turn a brand into an experience for the consumer. Younger audiences, who typically shy away from traditional forms of advertising, are more likely to interact with a brand if they provide an experience first. VR is often a great way to provide that for consumers.
7. Employee engagement
Corporate information can often be bland and dense. That is why many employers are pivoting their communications from long manuals to stylish, appealing videos for their employees. From recruitment and on boarding to internal communication and training, video enables a consistent and engaging experience for employees. It also encourages employee alignment with company values and can provide continuous learning, challenging employees and, thus, creating greater productivity and innovation in the workplace. Employees who feel creatively and intellectually challenged at work are more likely to feel satisfied within their careers. Video communications and training is a great way to allow that.
Now is as great time to give these trends a try. At Think Media Studios, we recognize it isn't just about the trend but also the knowledge of where trends fit best. Companies, like us, have the capacity to strategize best uses and to make these trends as effective as possible for brands.